Overview
At Woodlands we offer an enriching academic program, which will ensure students have a positive and nurturing educational experience. Our evidence based literacy and numeracy programs are taught explicitly in the junior years, allowing students to develop a strong understanding of concepts which will help them to succeed in their educational journey. In our middle and senior years, our students continue to be taught explicitly whilst also developing a strong sense of their own learning styles, using their student voice to enhance their learning experience.  
We believe each and every student has their own set of strengths and we aim to assist students to thrive at our school.
English
We recognise the importance of literacy skills being a fundamental part of everyday life. Our goal at Woodlands Primary School is to develop and challenge our students' understanding through engaging, structured and evidence based learning experiences. To help our students build upon their literacy skills we ensure that we deliver a clear, consistent curriculum for all students.
Reading
Over the past few years we have been moving to a reading instruction which is centred around the 'Science of Reading' and structured literacy. The Science of Reading is based around vast amounts of research which identifies how we learn to read. More information and research around the Science of reading can be found here. We understand that not all students learn to read easily and that reading is an extremely complex skill requiring consistent effective teaching. We provide an environment where we students are supported to read based on evidence based practice. 
In our classrooms, we centre our reading program around the explicit, direct instruction of the following pillars of reading: 
Each of these pillars build upon each other with the goal being that students can competently read and comprehend the text that they are reading. Our teachers work on developing students' understanding in each of these areas, to develop confident, fluent readers. Lessons are structured and planned across year levels to ensure consistency throughout our teams. 
To complement the teaching of these components we implement the Jolly Phonics spelling and grammar program. This ensures students are systematically taught phonics. This program is taught consistently throughout our school and becomes a key component of students ability to both read and write. Similarly, our junior school uses the Heggerty program to assist with students' understanding on phonemic awareness. 
Our students have access to decodable readers. These readers allow students to practice reading what they have been taught in class. Whilst we continue to build upon our resources, we will utilise online libraries as well as take home books. For more information about decodable readers, please see the Learning Lounge at Decodable Readers Australia.
Online Literacy Programs: 
Our online programs include – Reading Eggs for students in Years F-2, Lexia for students in Years 3-6, Essential Assessment 'my numeracy', Decodable Readers Australia and Nessy which is added for students who may need extra assistance with their reading skill set. These programs allow for differentiated instruction both within the classroom and at home.
Reading at home – what can you do to assist? 
We strongly encourage students to regularly read at home. Depending upon students' needs this may involve students being read to, having a parent or guardian listen to a student read or a student reading independently. The image below identifies the importance of reading at home and its impact.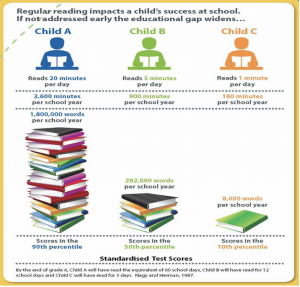 When you are at home here are some tips when working with your child/ren: 
When your child gets stuck when attempting to decode (read) a word: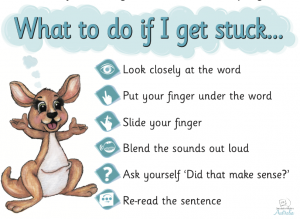 Encourage

positivity around learning. Even if you think you were 'bad at reading', please rethink how you speak about reading around your child. 
Read, read, read. Reading to, with and listening to your child helps beyond measure. If you can schedule this into your routine, it may assist with it being done nightly. 

If your child makes a mistake, this is ok, it's a great way for them to learn. 

Be patient, this one can be very tricky but try not to automatically say a word and give your child time. 

Make reading special – create a space where your child is comfortable reading so it is enjoyable for them. 

Once is not enough – encourage your child to reread a book – this will assist with their understanding of the story and with success with fluency. 

Talk about books! The interesting vocabulary, the storyline, any new learning. Relating books to a previous experience is a great example of helping students to understand what they have read.  

Practice spelling or sounds when these are given to your child.
Writing 
With our writing program our teachers use explicit direct instruction to deliver the curriculum content. 
Our teachers all follow the writing process so that all students are aware of the various stages of writing. This includes; planning, composing, revising, editing and publishing. Our writing program also incorporates elements of the VCOP and Big Write strategies. These programs bring the fun back into writing and most importantly, challenge students throughout the writing process.
 We strongly encourage students to practice speaking, reading and spelling at home to further consolidate the skills being learnt within the classroom. The partnership between the school and home is a key component of successful learners. 
 Oral language sets the foundation for the reading and writing skills that students develop as they progress through school. Through the use of games, turn and talk and various oral language activities our students are given the opportunity to practice respectful dialogue and active listening. Our students are encouraged to reason together, collaborate and build upon their understanding.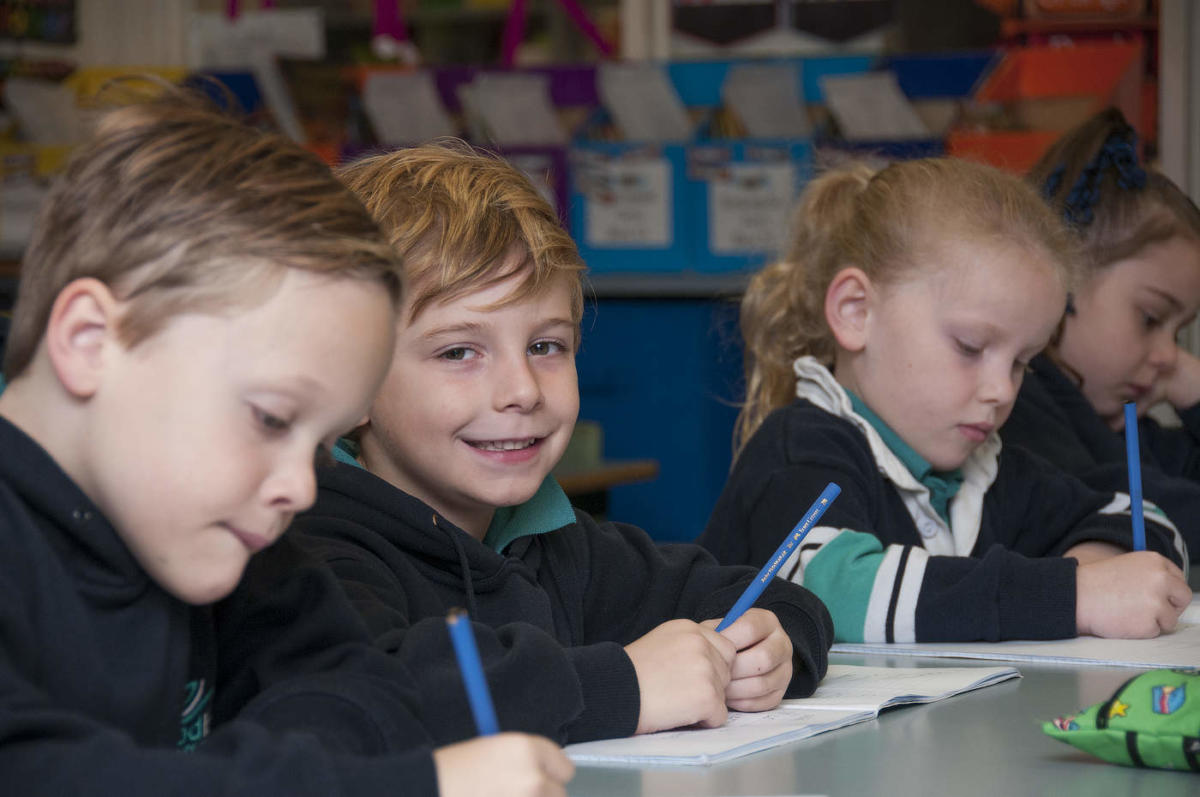 Mathematics
At Woodlands Primary School we want students to enjoy maths, feel empowered and experience regular success. 
We teach Mathematics through differentiated challenging problem solving, regular fluency practice and skill based learning. We aim to develop independent learners with the capacity for deeper thinking and the confidence to inquire into mathematical concepts. This includes students constructing meaning, thinking mathematically, solving a variety of problems, articulating their thinking and correctly using mathematical language.
As a result of learning mathematics at Woodlands Primary School all students will be encouraged and assisted to:
develop a positive attitude towards mathematics and an awareness of the relevance of mathematics in the real world

develop competence and confidence in mathematical knowledge, concepts and skills

develop an ability to solve problems, to reason, to think logically and to work systematically and accurately

develop accuracy in computational skills consistent with their age and stages of development

understand and use mathematical language

develop an ability to work both independently and in cooperation with others

be risk-takers, who are happy to make mistakes

articulate their thinking confidently during mathematical tasks.
At our school, a maths lesson begins with a 'Tune In', which can include a Number Talk or Mental Maths session. The main mathematical concept is then delivered explicitly as teachers follow our instructional model of "I do, we do, you do" and students go on to individual and collaborative learning opportunities. We also use the Maths300 program during mathematical lessons to assist with differentiating the students, through targeted open-ended investigations.
A Number Talk is a 10 to 15 minute whole group mental maths activity where students find the answer to a maths problem in their heads, then share aloud the strategies they used to find that answer. This strategy helps to develop quality student discourse in a whole class setting as students are encouraged to explain their thinking, justify their reasoning, and make sense of each other's strategies.
Maths300 lessons reflect happy, healthy, cheerful, productive, inspiring classrooms in which students at all levels are learning to work like a mathematician. By beginning with an open-ended investigation, Maths300 lessons encourage the questioning, reasoning, justifying and communication skills of a professional mathematician.
We use websites such as Mathletics and Essential Assessment to help assist us with our teaching and to provide opportunities for pre and post assessment tasks to determine students' understanding of topics and inform our teaching for each unit. Mathletics (online maths program) is also used throughout our school to assist students in their understanding.
At Woodlands Primary School, we believe the best strategy when teaching the humanities subjects such as history and geography, is through an Inquiry-based approach. Students pose questions, research responses and present their findings to an audience. Presentations have included Student Elections, Genius Hour Expos, Excursions and Parent Open Afternoons.
Inquiry-based learning is more than asking a student what he or she wants to know. It's about triggering curiosity. The focus is on 'how we know' rather than 'what we know', with students actively involved in the construction of their own knowledge through active involvement. There is a shift away from a content driven approach towards one that provides students with the skills and resources to discover knowledge for themselves. Students are able to pose a question and given the skills and resources to explore, investigate and search for answers. They plan and carry out their research, come to some conclusions and decide how they could make change happen. They convert information and data into useful knowledge. Ultimately, the importance of inquiry learning is that students become lifelong learners and learn how to continue learning.
The aims of our Inquiry Learning Approach are to:
Nurture and develop the students' natural inquiring mind, helping them to become lifelong learners who continue to learn how to learn.
Develop the students' ability to pose questions and plan, research, investigate and search for answers and solutions.
Develop the skills needed to convert information and answers into useful knowledge that can be applied to new situations and prompt further learning.
Provide students with different ways of viewing the world, communicating about it and successfully coping with the questions and issues of daily living.
Develop an understanding that all knowledge changes over time as people challenge, shape and contribute to it.
Demonstrate that there are often multiple perspectives for looking at, analysing and understanding things.
Provide learning opportunities that are more relevant as concepts are learned in context and relate to existing knowledge and experiences.
Develop thinking processes and strategies that are outlined in the Victorian Curriculum.
Provide rich learning opportunities that are relevant to the students and cross over all domains eg. English, Mathematics, Civics and Citizenship, Science, Health, Humanities, ICT, Critical and Creative Thinking, Technology and Art.
Encourage students to become independent, resourceful and responsible learners.
Foundation – Year 1 Level
Physical Education at the Foundation – Year 1 Level occurs weekly for one 30 minute session. The emphasis at this level is on developing fundamental motor skills which includes ball handling. Fundamental motor skills essential for all sports and are; throwing, catching, kicking, running, jumping, bouncing a ball, leaping, dodging and striking. Ball handling sessions develop skills such as throwing, catching, fielding, hitting, kicking and dribbling. Warm up games and other lesson introduction activities focus on all aspects of fitness; the development of endurance, speed/agility, joint flexibility and strength. Simple games are used as a means of teaching the need to follow instructions and drills are used to develop specific skills. Safety and keeping healthy in terms of looking after your body are discussed regularly during lessons.
Year 2 – Year 6 Level
Physical Education at the Year 2 – Year 6 Level occurs weekly for one 60 minute session. A brief outline of physical education at these levels includes:
Ball Skills: Continued development of Fundamental Motor Skills and their application to game situations, including modified versions of traditional major games.
Fitness: Development of endurance, speed/agility, joint mobility/flexibility and strength with an emphasis on cardio/vascular fitness for health.
Athletics: Introduction to athletics events such as sprinting, jumping, throwing, hurdles and relays.
Gymnastics: Continued activities in movement exploration and the introduction of more formal gymnastic movements including rolling, balancing and basic activities on apparatus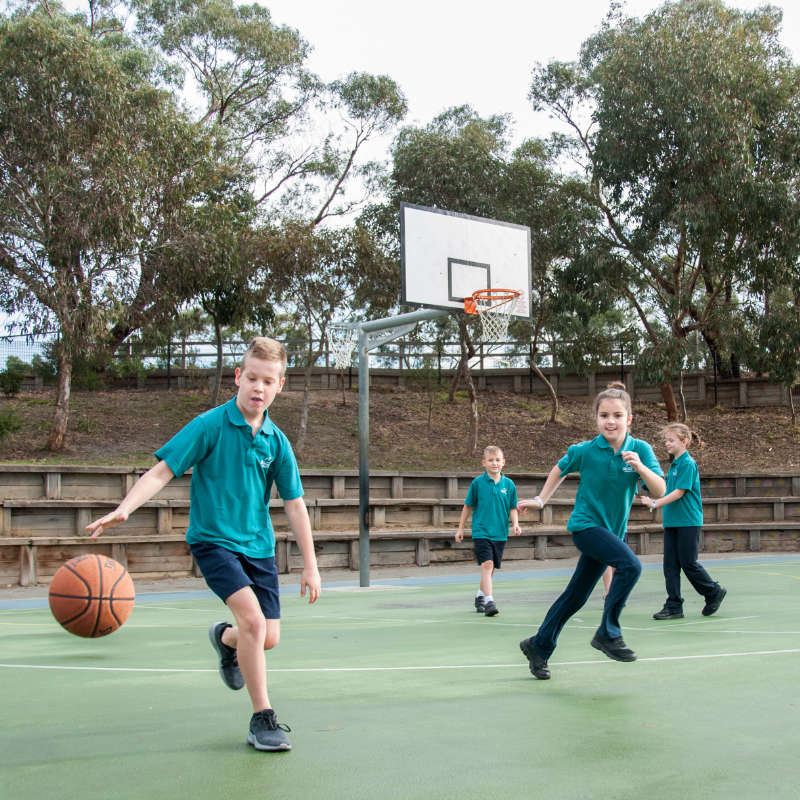 Year Level Sport
Foundation – one 30 minute PMP (Perceptual Motor Program) session per week. This is a station based activity where children learn to listen to instructions and develop an understanding of language through movement. The program aims to not only allow time for children to develop co-ordination, but memory and eye tracking skills necessary for reading and spelling. PMP is ran on Tuesday mornings.
Year 1 – weekly one 60 minute session that further enhances Fundamental Motor Skills.
Year 2 – weekly one 60 minute session that further enhances Fundamental Motor Skills.
Year 3 – weekly one 60 minute session that further enhances Fundamental Motor Skills, basic sport specific skills and basic game play.
Year 4 – weekly one 60 minute session that incorporates Fundamental Motor Skills with sport specific skills and game play.
Year 5 – weekly one 90 minute session that supports the development of sport specific skills and the whole health and physical education curriculum.
Year 6 – weekly one 120 minute session where children are involved in Interschool Sport competition playing specific sports against local schools for summer and Winter Sports. Year 6 Sport is on Fridays.
Students are taught Visual Arts in 2 vibrant, fully equipped Art rooms. They are also taken outside to enjoy creating Artworks in the glorious, inspiring grounds of our beautiful school.
Students happily engage in a compilation of Art activities to inspire them to communicate the world as they see it through Visual Arts. 
Their development as artists will also assist them in all other areas of the curriculum by encouraging creativity, critical thinking, imagination, collaboration, problem solving, risk-taking and self-direction.
The enriching activities will provide opportunities in the skills of art elements of line, form, texture, shape and colour.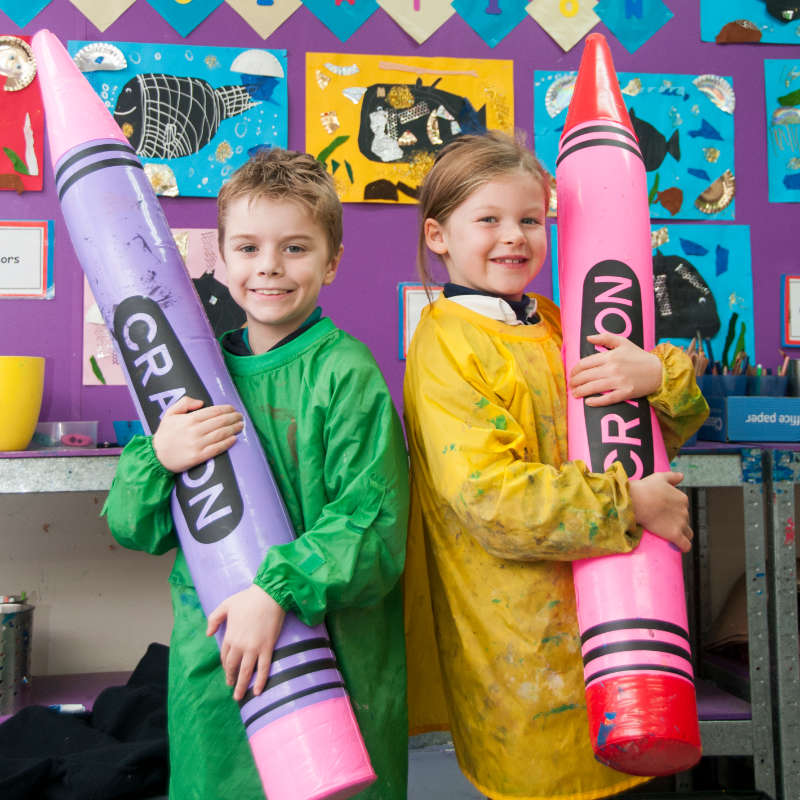 Students from Foundation to Year 2 attend Music and Dance Lessons for an hour per week for the whole year and our Year 3 students attend for an hour per week for half the year.
Students will be learning a variety of songs and rhymes and having lots of fun with music. They will enjoy playing and experimenting with instruments in the music room such as drums, keyboards, glockenspiels and simple percussion.
Lessons include activities involving singing, playing instruments and moving and responding to various styles of music.  Students will investigate through song and dance the aspects of music including beat, rhythm, tempo and dynamics.
Students will participate in various dance styles, learn dance sequences and respond to dance performances as well as having opportunities to choreograph and compose dances of their own
As students progress they will be introduced to simple music notation and will have opportunities to compose and play their own simple music using percussion instruments.
Students begin learning how to play the recorder in Year 2 and this continues on throughout Years 3. They will learn how to correctly hold and play the instrument as well as learning to play some simple songs.  With each new song students will be introduced to more complex music notation developing an understanding of written music.
Footsteps
We run a whole school dance program named 'Footsteps' during Term 3 of each year. The dances the students learn are performed at our fabulous end of year concert held in December.
Alpha Show
The dynamic theatre company Alpha visits Woodlands annually during Term 2 preforming for our Foundation to Year 4 students. It is a great opportunity for our students to let their imagination run wild and experience real quality theatre.
School Choir
Choir runs every week at lunch times in the Performing Arts Hall.  Students in Years 3-6 are invited to participate in choir.
Woodlands Got Talent
Our annual Talent Showcase invites students from Year 2 to 6 to audition to be a part of our Top 10 performers. The one night event includes performances from the Woodlands Choir, Dance Group and presentations from our Media students.
The STEM program at Woodlands is a curriculum based on the idea of educating students in four specific disciplines — science, technology, engineering and mathematics. It is an interdisciplinary and applied approach to teaching, with skills and knowledge important for all stages of our learning, jobs and everyday lives.
Year levels from 3-6 has a weekly hour-long STEM session exploring all learning learning areas. Recent additions to the STEM area include print and design utilsing 3D printers, and programming and coding with robitics. 
The focus of STEM lessons is largely hands on, to engage students and develop their inquiry and observational skills.
Auslan is the new language which will be taught across all year levels at Woodlands. "​​Auslan (Australian sign language) is the sign language of the Australian Deaf community. It was developed in Australia by people who are deaf so that they could communicate with others. The term Auslan is an acronym of Australian Sign Language, coined by Trevor Johnston in the early 1980s, although the language itself is much older." (Betterhealth, 2021). 
We are excited to offer this program, which will not only teach our students a second language but also encourage communication and inclusivity within our school community. 
At Woodlands, Digital Technologies are utilised to provide students with the tools to transform their learning and to enrich their learning environment.
eSmart
Woodlands is an eSmart school; an initiative of The Alannah and Madeline Foundation. It is a behaviour-change initiative designed to improve cyber safety and deal with cyberbullying and bullying. Since registering with the program, we have introduced many new policies and activities to improve the way our school manages cyber safety, bullying and cyberbullying.
Integrated Into All Learning Areas
Digital Technology is taught as a specialist program for all Foundation and Year 1 students to give them the basic skills and introductions of software programs such as Paint, Word, Excel etc necessary to work on their own.
Digital Technology from Year 2 to 6 is not taught as a stand-alone specialist subject at Woodlands, instead it is utilised as a tool in all learning areas, across the year levels.
Mixed Platform
Students and staff at Woodlands Primary have had access to both Windows and Apple devices for nearly a decade. In more recent years, this has grown to include Chromebook devices for students and the use of the Google Education Suite for all staff planning.
Senior School 1:1 Laptop Program
Year 3 students have access to their own personal device for the entire school year. Students are responsible for taking care of this device and not only utilise it in the classroom but take it with them to their Specialist classes to support their learning.
Year 4, 5 & 6 students use Google Chromebooks as part of their 1:1 laptop program. Chromebooks give students access to the Google Education Workspace, supporting them to create, collaborate, communicate, connect and contribute more effectively with one another. 
Junior School iPad Program
Students in F – 2 utilise iPads in their classrooms. Teachers utilise a whole range of applications that support the teaching of literacy, numeracy, inquiry and other areas of the curriculum. iPads are commonly used to support small group rotations and assist in assessment. 
Resource Rich
Along with the mixed platforms stated above, students and staff at Woodlands have access to digital displays (interactive whiteboards and LED TV trolleys), a strong network, Google Apps, digital microscopes, robotic and coding tools.
Focused on the Task, Not the Technology
Our most important Digital Technology focus at Woodlands is enabling our students to focus on the task to be accomplished rather than on the technology they are using to do the work. Particularly when using the iPads, the students and staff know that, "It's not the app, it's the activity."
Woodlands students have a program rich in literature and are able to borrow books from our well-stocked Library.
We focus on enjoyment, imagination and information through stories and non-fiction material.
Students from Foundation – Year 6 receive a weekly Library lesson (30 minutes) taken by their class teacher.
Lessons focus on literature appreciation, how to use the library, as well as borrowing books of interest for students.
Students are encouraged to be responsible for remembering their Library 'Book Borrowing Day' – It is vital that children return their book/s so they can borrow a new book.  Students will not be able to borrow if they have not returned their book/s.
The Library supports and extends the Units of Inquiry being studied in each year level and provides classrooms with a variety of resources to enrich each Unit.
Library Bags
For borrowing purposes, children are encouraged to have a waterproof library bag, labelled with both their first and last names and grade.
A Library Bag:
Protects the book
Ensures the library book is kept separate from household books when not in use, making them easier to find on Library Book Borrowing Day
Makes it easier for students to carry
Most importantly protects library books from damage, especially leaking drink bottles
Waterproof Library bags are available from the Bounty Shop, however you may use any waterproof, protective bag, preferably around the size of a pillowcase to accommodate our larger books.
The Library is open, before school from 8.45 – 9.00, recess from 11.00 – 11.15, one lunchtime per week 2.00 – 2.30, and after school 3.30 – 3.45 for quiet reading and borrowing (students need to bring a waterproof library bag to be able borrow).
During the year, the Library hosts two Book Fairs, June and December, as well as supplying brochures for Book Club twice per term.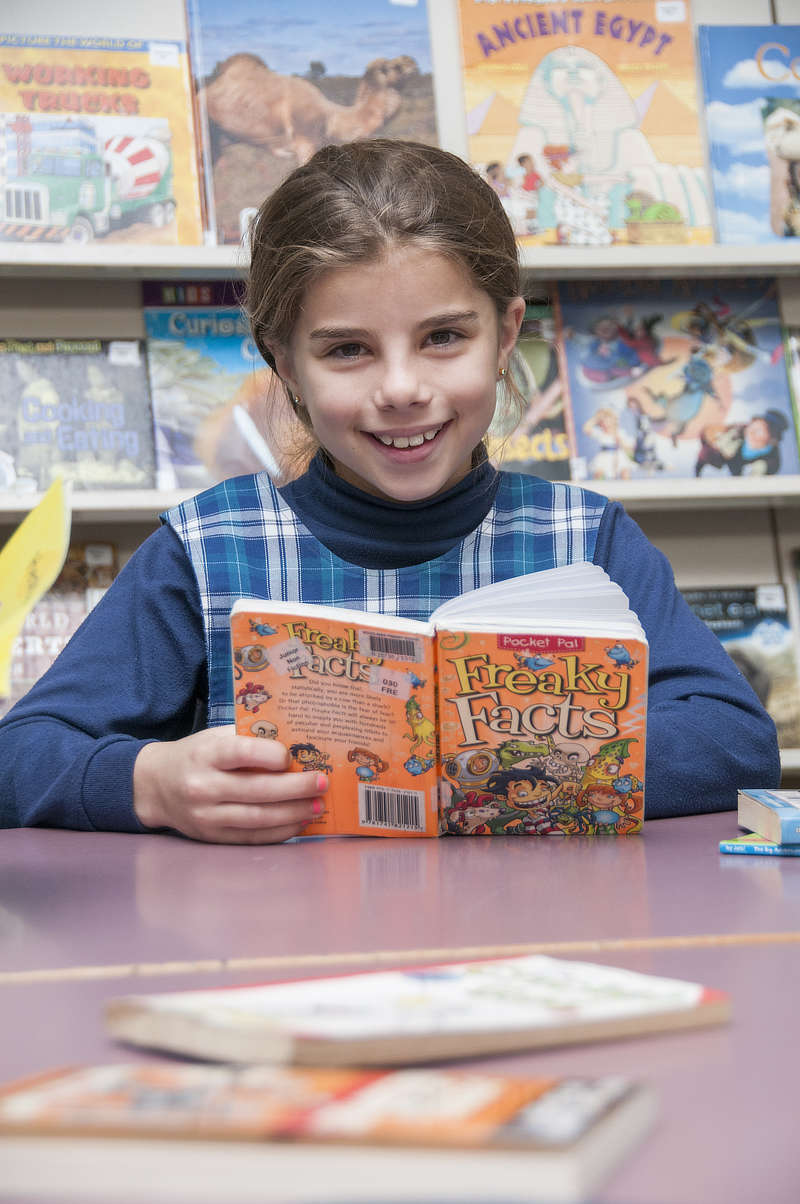 Media Studies introduces students to a broad range of media texts, developing skills in areas such as photography, filmmaking, radio, scriptwriting, webpage design and marketing. Students work collaboratively, presenting many of their projects to the wider school community.
Woodlands has its own green screen and radio studios. We broadcast a television news program 'live' to classrooms during the week with information on what's happening around the school.  Woodlands FM runs radio shows on a weekly basis at lunchtime, providing students with music to listen to along with competitions, interviews and requests. Senior students are trained in television and radio broadcasting and take significant responsibility to see the shows go 'live to air'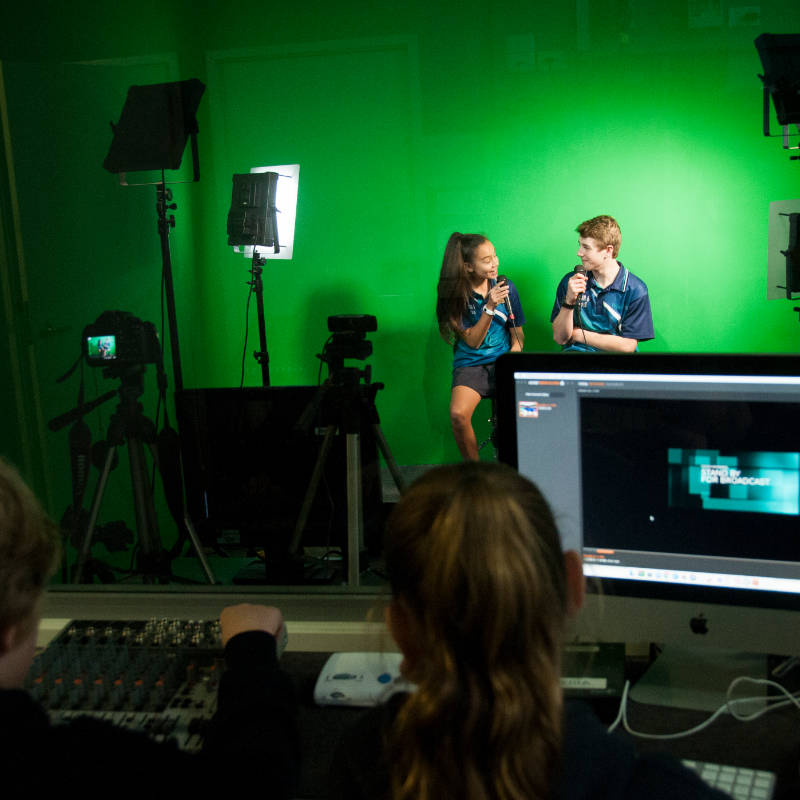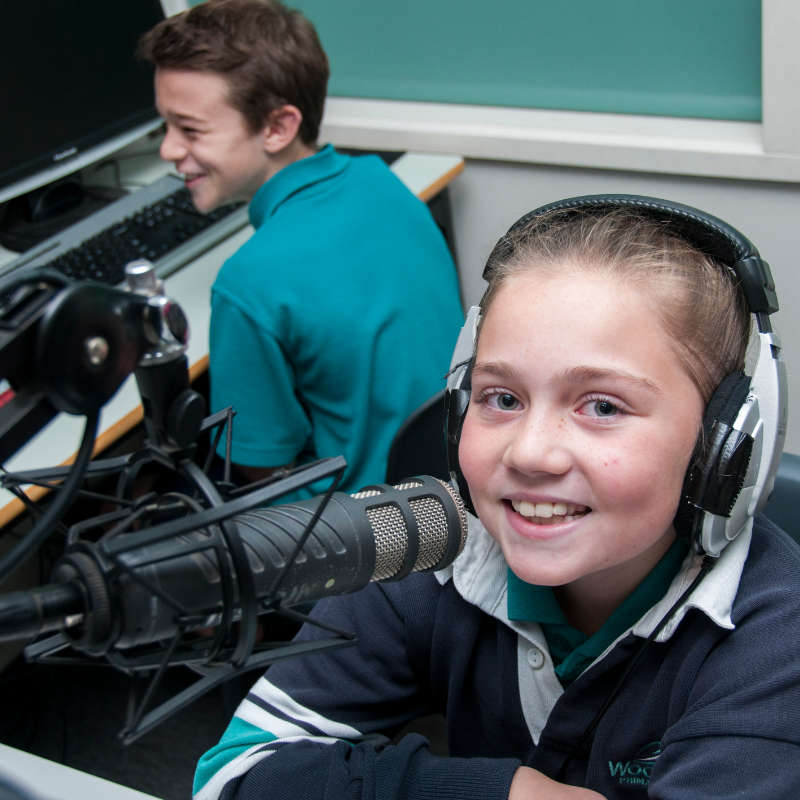 School camps play a vital role in building character and resilience in our students, which we value very highly at Woodlands Primary School. We deliver camps from Year 3 through to Year 6, each with a different location and challenge.
Term 1
Year 6 Camp (Canberra) 5 days, 4 nights
To begin their last year of primary school with a bang, the Year 6 students set off to Canberra by coach in the early hours of Monday morning, where they will spend the entire week touring around the sites of our capital city. These include visits to:
National Museum of Australia
National Capital Exhibition
Ainslie Lookout
Australian Institute of Sport
Royal Australian Mint
High Court of Australia
Parliament House
Telstra Tower
This camp is highly educational, as it ties in with the Year 6 curriculum focus, Civics and Citizenship.
Term 2
Year 3 Camp (Somers School Camp) 3 days, 2 nights
Our Year 3 students go away on camp for the first time to Somers, only 30 mins drive from Woodlands Primary School. It is here that they are introduced to some challenging activities such as the Giant Swing, Flying Fox and Ropes Course. The camp backs directly onto the shores of the Westernport Bay, with the Coolart Wetlands located just next door. Both of these environments and its local wildlife create fantastic discussions and lead to further research from the students back at school.
Term 3
Year 5 Camp (Urban Camp) 3 days, 2 nights
The Urban Camp is a fantastic opportunity for our students to visit some of Melbourne's finest landmarks, whilst also experiencing the hustle and bustle of the inner city. Over 3 days, the students will travel by train, tram and foot to visit various places such as:
MCG
Eureka Skydeck
Melbourne Sports and Aquatic Centre
Melbourne Icehouse
Scienceworks
Queen Victoria Market
Term 4
Year 4 Camp (Forest Lodge Farm) 4 days, 3 nights
Our Year 4 students have been attending Forest Lodge Farm for almost 20 years, and we'll continue to go back for many more! A beautiful country setting in Alberton West (South Gippsland), Forest Lodge provides our students with plenty of physically challenging activities such as Canoeing, Hut Building, Mud Run and Low Ropes, whilst also encouraging students to step out of their comfort zones with The Giant Swing and the Flying Fox. The extra day at camp is spent on a day trip to Wilsons Promontory, where the students complete a difficult hike across Squeaky Beach, up and over the hill to Tidal River where they meet for a BBQ lunch and a play at the beach before returning to camp for the evening.